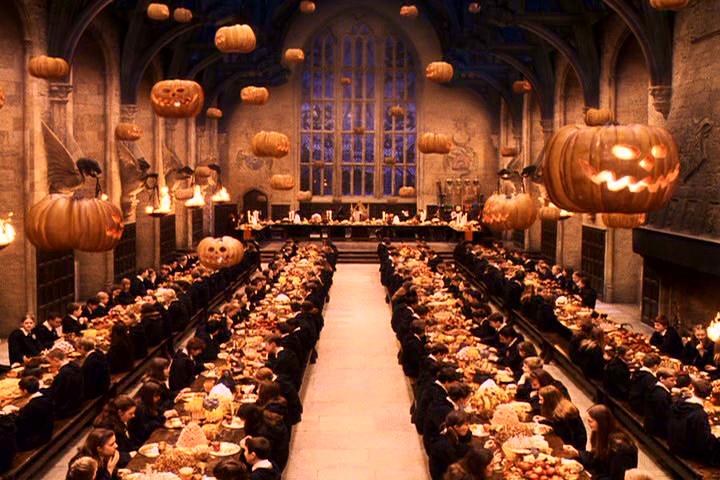 For those of you who grew up with the Harry Potter phenomenon you know that the boy wizard's story is timeless. As we get closer to Halloween and the witching hour you might be looking for a fun Halloween Party idea since not everyone can make it over to Hogwarts for Halloween. Or perhaps your kids started reading the books or they have been watching the movies and you want to do something fun with them! Either way here are a few fun ideas for treats that you can serve at your very own Harry Potter Party along with some fun viewing ideas.
Wizard Wands-
What you need-
Long Pretzel sticks (Snyder's of Hanover work best)
White Chocolate Meltys (Can be found at Michael's or JoAnns)
Milk Chocolate Meltys
Dark Chocolate Meltys
A wide variety of candy, sprinkles and other decorations.
Directions-
Empty the bags of meltys into microwaveable safe bowls and microwave them at 20 second intervals until the chocolate melts into a proper liquid.
Place the bowls of chocolate along with the candy and pretzels on a clean surface for the kids to start dipping the pretzels and designing their own wands.
Line a cookie tray or baking sheet with parchment paper (no irony there) for the kids to let their wands harden before eating them.
**Note of warning- This activity can get very messy and if the chocolate starts to harden in the bowls just put them in a microwave for another 15-20 seconds.
***If you don't have a microwave a double boiler works just as well for melting the chocolate.
Butterbeer!
From Fox News

Start to finish: 1 hour (10 minutes active)
Servings: 4
Ingredients:
1 cup light or dark brown sugar
2 tablespoons water
6 tablespoon butter
1/2 teaspoon salt
1/2 teaspoon cider vinegar
3/4 cup heavy cream, divided
1/2 teaspoon rum extract
Four 12-ounce bottles cream soda
In a small saucepan over medium, combine the brown sugar and water. Bring to a gentle boil and cook, stirring often, until the mixture reads 240 F on a candy thermometer.
Stir in the butter, salt, vinegar and 1/4 heavy cream. Set aside to cool to room temperature.
Once the mixture has cooled, stir in the rum extract.
In a medium bowl, combine 2 tablespoons of the brown sugar mixture and the remaining 1/2 cup of heavy cream. Use an electric mixer to beat until just thickened, but not completely whipped, about 2 to 3 minutes.
To serve, divide the brown sugar mixture between 4 tall glasses (about 1/4 cup for each glass). Add 1/4 cup of cream soda to each glass, then stir to combine. Fill each glass nearly to the top with additional cream soda, then spoon the whipped topping over each.
Ton Tongue Toffee
From Harry Potter Recipes
Ingredients
2 cups sugar
8 tablespoons butter
1/2 teaspoon rum or vanilla flavoring
1 1/4 cups water
Instructions
Place all ingredients in a heavy saucepan.
Stir over medium heat until sugar dissolves.
Without stirring, boil until mixture reaches 290 ºF on a candy thermometer.
Pour into a buttered, 9-by-12-inch pan.
Let cool until almost firm to the touch.
Mark into 2-inch squares with a sharp knife.
When cool, break into squares or shards.
Makes 1 1/4 pounds.
Spider Deviled Eggs
What you need:
1/2 cup mayonnaise

1 teaspoon white vinegar

1 teaspoon yellow mustard

Paprika for garnish (optional)

1 can whole California Black Ripe Olives

1 dozen XL large eggs, hard boiled and cooled
Instructions:
Prepare eggs by slicing them in half lengthwise and scooping the yolks out into a medium sized bowl.
Add the Mayonnaise, Vinegar, Mustard and Salt to the Egg Yolks and whip the mixture until smooth. (Make sure you save about 2 tablespoons of the filling for use later on.)
Arrange the halved whites of the eggs on a plate and scoop or pipe the filling mixture into them. Garnish with a shake of the Paprika if desired for taste.
Take the can of Olives and drain them. Cut them in half lengthwise. Place one half in the center of each egg full of filling.
Cut the remaining halves of olives lengthwise into strips for the legs and add four legs to each side of the body.
Serve and enjoy!!!
Ghostly Cookies!
What you will need:
1 package of  Nutter Butter Cookies
2-3 bags of White chocolate Meltys
1 bag of chocolate Meltys
What to do:
Dump the white Meltys into a microwaveable bowl and put the bowl into the microwave for about 20 seconds. Continue this until the chocolate is a liquid.
Line a cookie sheet with Parchment Paper.
Dip the cookies into the melted chocolate and then let them sit on the parchment paper to harden. When hardened dip the other end into the chocolate so that the whole cookie is coated and wait till it is hardened.
Repeat the melting process with the regular chocolate and using a fork or a toothpick to make the eyes and whatever faces you want on the ghostly cookies.
What you will need:
1 Pumpkin, boiled or steamed until soft
1 Carrot, peeled, chopped
1 Onion, chopped
2 cup Chicken stock
1 tsp. of dried oregano
Some Paprika powder as you like
Some Cinnamon powder
Some Nutmeg powder
Baguette bread, sliced
1 tbs. of butter
1/2 cup of cream
Some dried basil
salt and pepper
Plain yoghurt
3 tbs. Olive oil
Directions:
First mash the boiled/steamed pumpkin and set aside.
Heat the olive oil in a pot and stir in the onion until golden brown then add the carrot.
Pour in the chicken stock, mashed pumpkin, paprika powder, cinnamon powder, nutmeg powder, and dried oregano and boil until the carrots get soft.
After the soup is boiled and the carrot is soft turn off the fire then blend the soup in blender or you can use hand-blender to do it.
Blend the soup til all the ingredient is mixed up and make sure nothing is still in chunk.
Turn on the stove again. Pour the cream and some butter, add salt and pepper for seasoning. Then pour some plain yoghurt before you serve it.
Enjoy!
For wizards over the age of 21 we bring you! Harry Potter Alcoholic Drinks!
Check out these magical sites for some shockingly good drinks based on your favorites!
20 Alcoholic Harry Potter Themed Beverages
References: